Rolled and Welded Carbon Steel Pipe
A Leader in Manufacturing and Delivering Large Diameter Rolled and Welded Steel Pipe
Large Diameter Rolled and Welded Steel Pipe is what makes Pipe Industries special. Our fabrication begins at 22 inches and goes up to 184 inches in diameter and a material wall thickness from gauge material through 1 inch. Pipe Industries performs all welding per latest specs of AWS, AWWA, ANSI, ASTM, and API 5L most of our steel material is domestic.
DSAW Pipe (seams and mid welds are submerged and arc welded inside and out, typically used on jack and bore, hammer, driven and heavy wall pipes) is double submerged and arc welded pipe. SAW Pipe - defines that the exterior seams and mid welds are submerged and arc welded.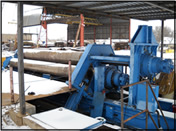 All seams on our pipe are rotated 180 degrees. We have a custom designed machine for fabricating the ends of our pipe. All of our rolled and welded pipe is beveled, squared, or chamfered ends based on the customers need. Our machines include a 10 foot, 11 foot and two 20 foot roll machines giving us the capability to roll weld and deliver over 400 tons of steel pipe per month.
Our six acre yard and highly experienced crew can fabricate any specialty item from carbon steel. Our large diameter steel pipe goes to construction sites throughout North and Central America. When requesting no mid weld pipe, please note that plate widths are up to ten feet and will roll into a 38 inch can. To calculate plate length for Pipe take the OD minus the wall thickness times 3.1416 (pi).
We guarantee all of our work and will go the extra mile to insure our customer's needs.
Call us at 303-287-1700 or email us for more information!